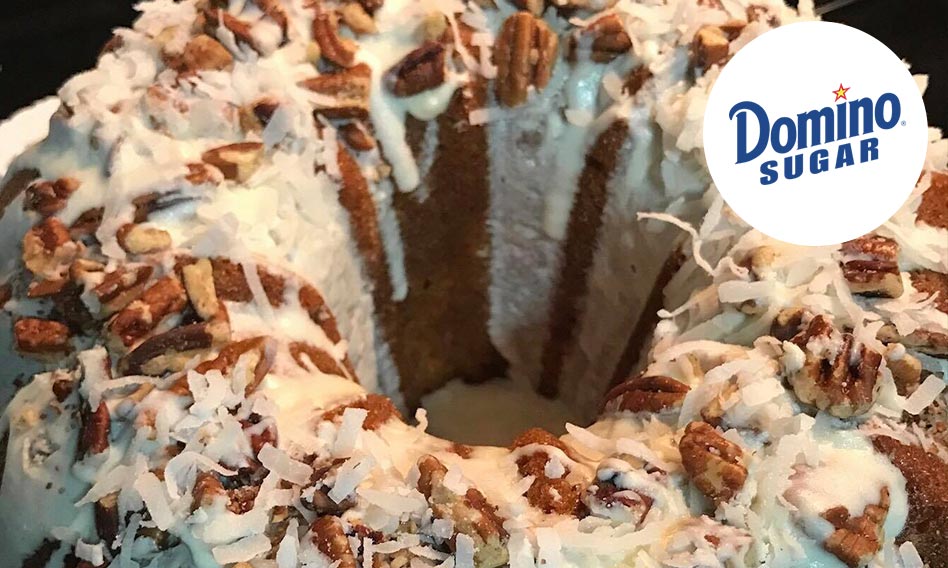 Brown Sugar Coconut Cream Cake. I can't handle it!! 
 LaSonia Johnson is the winner of a Domino Sugar Prize Basket with products & baking essentials! Enjoy her incredible FULL RECIPE below! 
Ingredients
1 cup flaked coconut
4 eggs
1 cup of Domino® Dark Brown Sugar (Get coupons: https://www.dominosugar.com/coupons)
1 package Duncan Hines Yellow Cake Mix
1 (3.4 oz.) package coconut cream instant pudding and pie filling
1 cup of water or coconut milk
1/3 cup vegetable oil
Vanilla Frosting
additional coconut
1/3 cup of pecans
Directions:
-Preheat oven to 350ºF.
-Grease and flour a 10″ bundt pan.
-Combine cake mix, pudding, coconut milk, eggs, and oil in a large mixing bowl. Beat at medium speed 2 minutes. Fold in coconut. Pour into prepared pan.
-Bake 45 to 50 minutes or until toothpick inserted in center comes out clean. Cool in pans 25 minutes. Invert onto serving plate.
-Place frosting in microwave-safe bowl. Microwave on high power for 10-15 seconds. Stir until smooth. Drizzle over cake. Sprinkle with additional coconut, and pecan if desired.
To create flavor that's deep, rich, and real, use only Domino® Dark Brown Sugar. Its moistness and deep, rich molasses flavor make it ideal for full-flavored or savory recipes. Use it in brownies, gingerbread, coffee or chocolate cakes, fudge, BBQ sauce, marinades, sweet and sour sauce, and pancake syrups. For more holiday recipes from Domino® Sugar, please visit http://bit.ly/2nftTkR.