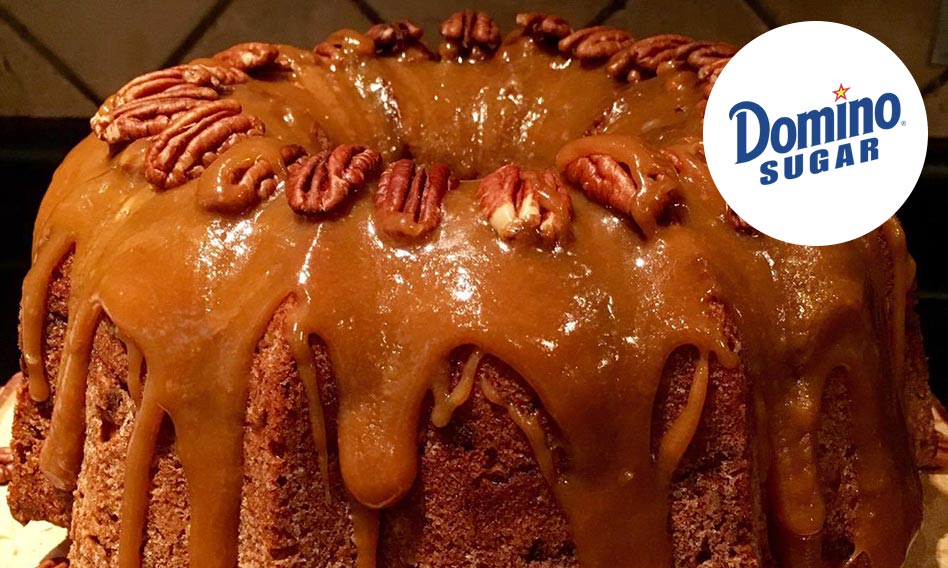 Betcha can't say no to a slice of this Caramel Apple Spice Cake! Michelle Lynn is the winner of a Domino Sugar Prize Basket with products and baking essentials! Enjoy her FULL recipe below! 
Ingredients:
1 cup pecans, chopped
3 cups all purpose flour
1 tablespoons ground cinnamon
1 teaspoon salt
1 teaspoon baking soda
1 & 1/3 cup vegetable oil or canola oil
2 cups sugar
3 large eggs
2 teaspoon vanilla
3-4 Granny Smith apples (or your favorite) cut up pieces
Sauce:
1 cup packed Domino® Light Brown Sugar (Get coupons: https://www.dominosugar.com/coupons)
¼ cup milk
¾ cup butter or margarine (1 1/2 sticks)
1 teaspoon vanilla
Directions:
Preheat oven to 350 degrees. Spray a 12 cup bundt pan. Sift together flour, cinnamon, baking soda and salt and set aside. Using electric mixer on high, combine oil, sugar and eggs on high speed until blended.
Mix just until blended. Mix in vanilla. Stir in apples and nuts. Pour batter into prepared pan. Bake 75-90 minutes or until a wooden pick inserted in the center comes out clean. Remove cake from oven and cool slightly on wire rack. Then, invert cake onto rack to cool completely.
To make caramel sauce:
Combine all ingredients in small saucepan. Cook over medium heat, stirring constantly until thickened to desired consistency. Pour over cake immediately.
Ask for Domino® Light Brown Sugar – don't settle for less! Domino® Light Brown Sugar has a nutty, caramel flavor, moistness, and subtle molasses flavor. It's ideal for cookies, shortbread, spiced cakes, brownies, and crumble toppings. Generally, if a recipe doesn't specify Dark or Light Brown, it is intended that Light Brown be used. For more holiday recipes from Domino® Sugar, please visit http://bit.ly/2nftTkR.