Back by Popular Demand, the Weekly Video Series Runs Through February 2018, Featuring Delicious No-Bake Desserts and Southern Favorites
VANCOUVER, Wash., Oct. 11, 2017 /PRNewswire/ — Perfect Company, the leading developer of connected kitchen products, and Rushion McDonald, two-time Emmy Award-winning Executive Producer of the "Steve Harvey" talk show and award-winning home baker, kicked off Season Two of their popular video baking series, "Perfect Bake® Time with Rushion McDonald."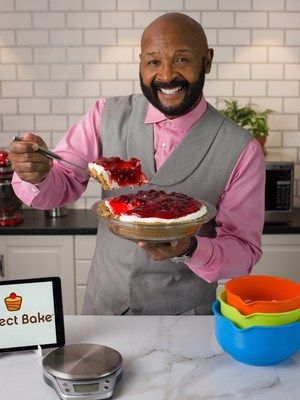 The series, which has garnered more than 1.9 million views since its debut in June, continues with Rushion's mouthwatering No Bake Double Strawberry Cheesecake recipe, which debuted today on the Perfect Company Facebook page and YouTube Channel, as well as on Rushion's Facebook page.
"We're so excited to be back with Season Two of 'Perfect Bake Time with Rushion McDonald'. The response from fans has been incredible, and we love that everyone is learning how to bake like a pro with no measuring cups or spoons using the Perfect Bake Smart Scale and Recipe App," said McDonald.
McDonald uses the Perfect Bake Smart Scale + Recipe App, which allows anyone, regardless of experience, to make perfect baked goods every time. The Bluetooth-enabled smart scale connects wirelessly to Perfect Bake recipe app, which comes preloaded with hundreds of chef-tested recipes to choose from. Each interactive recipe leads the baker through step-by-step and allows them to just pour ingredients as the scale measures by weight and the virtual bowl fills up in real time on screen – no measuring cups or spoons are required!
Tune in every Wednesday at 9am ET to see what Rushion is baking. To learn more about Rushion McDonald and Perfect Bake, visit https://makeitperfectly.com/partners/rushion.
About Perfect Company
Perfect Company designs, develops and manufactures connected products to help consumers succeed in the kitchen. Perfect Drink, Perfect Bake and Perfect Blend Smart Scale + Recipe Apps guide anyone, regardless of experience, through each recipe to make cocktails, treats, smoothies, soups, dips and more consistently perfect each time. It also licenses its core patented technology to other brands, powering kitchen appliances with Perfect technology. Follow us on Facebook, Twitter and Instagram. For more information, visit www.makeitperfectly.com.
About Rushion McDonald
Rushion McDonald is a two-time Emmy Award-winning television producer, host of the popular radio show Money Making Conversations, motivational speaker, businessman and philanthropist. He's also an avid and award-winning home baker and ambassador for the Perfect Bake smart scale + interactive recipe app. Rushion is known for his work as Executive Producer on television shows like the "Steve Harvey" talk show, "Steve Harvey's Big Time," and as Consulting Producer for the syndicated game show "Family Feud." He currently hosts a iHeart Radio Podcast, "Money Making Conversations," and runs a successful marketing and media company, 3815 Media, which produces television shows, large scale events, promotional campaigns, trade shows and corporate exhibits. Follow him on Facebook, Twitter and Instagram. For more information, visit www.rushionmcdonald.com.